The August issue of Fish Farmer is out now online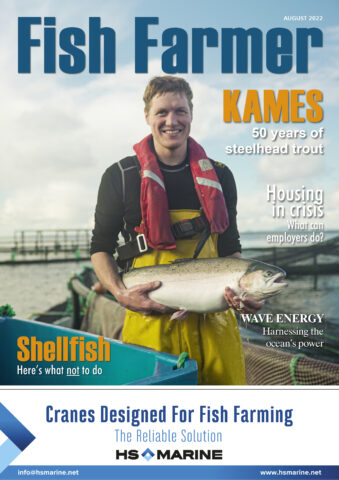 The August 2022 issue of Fish Farmer magazine is out now and you can read it here.
Our cover this month celebrates Kames Fish Farming, which this year is marking a half century of raising steelhead trout. For one of the pioneers in Scotland's fish farming industry to be still operating as an independent, family-owned company, is an achievement in its own right. It's to Kames' credit, then, that as well as looking back to the past, the company is using the anniversary as a springboard for the next 50 years, with ambitious plans for the future. You can find out more in our feature article, in this issue.
Meanwhile one of the constraints on growth in the sector, and for business in the Highlands and Islands generally, is the shortage of affordable accommodation, which has worsened as prices have shot up over the past few years. Hamish Macdonell explains Salmon Scotland's take on the issue, while Sandy Neil highlights what the fish farming industry itself, among others, is doing to try and mitigate the housing crisis.
Also in this issue, you can read about the potential partnership between wave power and aquaculture, the impact of Brexit on the seafood sector in the UK and EU, and about how Italians are increasingly developing a taste for salmon.
Don't miss our feature on Shellfish – which includes Nicki Holmyard on the rookie errors to avoid when starting out in this sector – as well as features on Antifouling and Net Cleaning, and Management Monitoring and Analysis.
Finally, on a personal note, it was my huge pleasure to meet the winning students in Aquaculture Awards for the Centre for Sustainable Aquaculture Research (CSAR), at the University of Swansea, and to see the CSAR facilities. The enthusiasm of the next generation of aquaculturalists gives confidence for the next 50 years, across the industry.