The April issue of Fish Farmer is out now online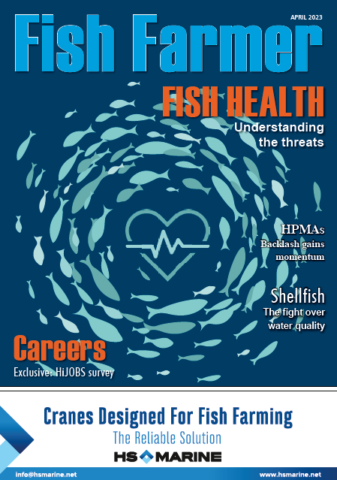 The April 2023 issue of Fish Farmer is out now online and you can read it here.
Last year was a tough one in Scotland for salmon, and for salmon farmers. As part of Fish Farmer's fish health special this month, we talk to the experts about the reasons behind the spike in mortalities we saw in 2022, and even more importantly, about what the industry can do in future to mitigate such threats.
In the Fish Health special we also look at the latest report – which is highly critical – from the Norwegian Veterinary Institute on fish health and welfare; and WellFish Diagnostics' Chris Mitchell reports on the TriNation Conference on fish health and welfare, which was held in Edinburgh late last year.
This issue also features Careers in Aquaculture, including – for the first time – an exclusive report on findings from a new survey into salaries and recruitment by online recruitment specialists HiJobs. The survey confirms what many of us already knew – that aquaculture is a dynamic sector full of opportunity.
Meanwhile, Sandy Neil examines the Scottish government's proposals for Highly Protected Marine Areas. These zones, which would bar almost any commercial activity – including fish farming – are envisaged to cover as much as 10% of Scotland's coastal waters. Their supporters say they are vital to preserve biodiversity, while others argue they will threaten the viability of coastal communities – and the argument goes all the way to the top of the Scottish government.
Also in the April issue, Nicki Holmyard looks at attempts to force water companies in England to do more to protect shellfish farmers' water quality; Vince McDonagh looks at the debate over cod farming in Norway; and Tavish Scott sets out the key issues Salmon Scotland is looking to ensure find a place on the agenda for Scotland's new First Minister, Humza Yousaf.