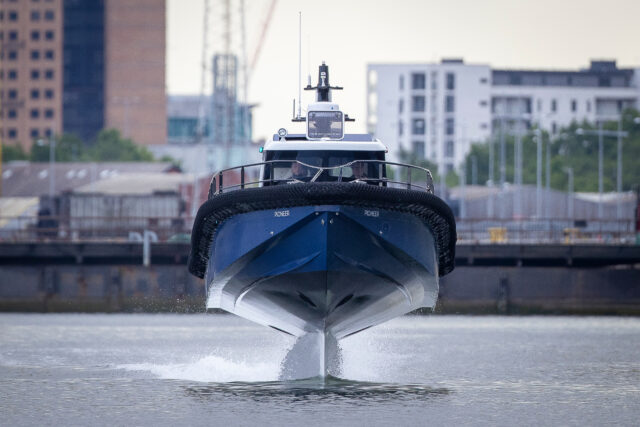 No matter which part of the world's maritime industry you look at, there is a strong strategic ambition based on a series of common objectives which focus on being more sustainable, reducing carbon footprints and achieving zero emissions.
Within this huge initiative there are a number of key target dates, such as 2030 and 2050, by which it is hoped the respective ambitions will be achieved. The aquaculture sector is just a part of this huge global effort, as any other part of the world maritime industry, be it cruise ships, commercial cargo vessels or yachts.
This massive drive to be more sustainable focuses on new fuels such as methanol, LNG (liquid natural gas), ammonia or hydrogen; new propulsion systems such as electric engines and the use of solar panels on-board craft to generate energy to contribute to reducing carbon footprints and cutting emission volumes.
Zero emissions is the current ultimate goal to reach and within each area of the wide span of global maritime activities, specific researches, trials and development are underway, new technologies are being evolved and relevant targets and, where possible, related timeframes are being set.
There is no doubt that to date much has already been achieved, but to meet the various upcoming deadlines such as 2030 and 2050 much more has to be achieved and refined.
By way of a summary of all this development work Kitack Lim, Secretary-General of the International Maritime Organisation (IMO), said in a comment marking International Women's Day: "Shipping is going through a transformation, tackling climate change through decarbonisation and undergoing digitalisation and automation at a rapid rate."
As to the aquaculture sector, considerable progress has been made by several operating and supplier companies keen to reduce their carbon footprint. This has, so far, involved building hybrid diesel-electric vessels, but other options such as hydrogen-powered or all-electric boats are possible.
This move to be more sustainable relates to all of the main types of boats operated in the aquaculture business, including wellboats, feed barges or workboats/support vessels. In the past all of these have been generally diesel-powered craft but to align with changes and being more environmentally-friendly in operational terms. This has meant the most recently boats have tended to be hybrids.
Past issues of Fish Farmer have highlighted a number of such vessels including:
Geraldine Mary – This 21m semi-hybrid powered workboat on long-term contract with Scottish Sea Farms was designed by Macduff Ship Design and built by MacDuff Shipyards;
New 18.5m bespoke hybrid service vessel for aquaculture support services;
Ronja Star – a hybrid wellboat delivered in late 2022 to Bakkafrost, and commissioned from Norwegian wellboat operator Sølvtrans – this is the largest vessel of its type in Scotland;
SM95 hybrid feed barge – delivered to Cooke Aquaculture Scotland, running on a combination of diesel and electric power; and
Hybrid D-E feed storage barge – deployed by independent salmon farmer Loch Duart to help cut the company's carbon emissions.
Complementing the above is a market assessment by Moen Marin, the world's largest supplier of electric and hybrid workboats for the aquaculture industry, which shows that the fleet of vessels serving this specialised market is becoming greener. For 2023, the company has stated that either hybrid or fully electric vessels will make up a higher proportion of the vessels it delivers than in 2022, when this category accounted for 80% of the company's output.
Alongside this, the Norwegian Seafood Federation has suggested that the country's aquaculture industry should become fully electric by 2030. This would reduce climate gas emissions by 360,000 tonnes annually, which is comparable to emissions from 180,000 cars. Reducing CO2 emissions is one part of going green and Moen Marin are convinced that electrification will also help businesses cut costs and save money.
Ian Ellis, Managing Director of MacDuff Ship Design Ltd, told Fish Farmer: "We are at a point where we need to start thinking about transition to net zero. In general terms, if you start thinking about a boat today it is likely 2024-2025 before you will see it, depending on yard and equipment.
He explains: "This means that we are already a long way towards the proposed 50% carbon reduction target of 2030.  It is also worth noting that it is likely that many of these boats built today will still be in service come the net zero dates proposed by governments, with these being a maximum of 2050 and many being closer than this."
He elaborates: "The biggest issue is working out the most suitable options for the vessel's operation, and giving flexibility.  Many of the alternative fuels are not available and require significant changes to the vessel layout for storage.  There is limited regulation for many and availability is limited and likely to remain so in many of the more rural areas where aquaculture happens for a long time to come.
"At present," he remarks, "the transition in most cases looks like a hybrid vessel with some battery capacity which can be charged by shore power or by generators.  As technology moves forward the infrastructure for electric propulsion is on-board the vessel and it becomes a matter of how and how much power is made and stored."
Ellis comments: "At present we are working on a number of vessels for the aquaculture sector and many have some battery capacity, from simple systems to allow the vessel to be engine-free overnight to vessels with electric drives and capability to operate for hours without charge. It is likely that the fish farms will be linked to some form of power generation with potential for plug in on-site in the future. As noted, we are working on a number of vessels which are all site working vessels but we know of other delicing vessels that are also set up with some hybrid technology."
"I would envisage," he adds, "the use of cleaner engines and diesel electric setups where the engines can be run at optimal efficiency.  The use of battery technology and potential for electric winches to regenerate power all helping with reducing power consumption and emissions.  At this time it is difficult to see the use of other fuel types on these smaller vessels."
He concludes: "There is an increased cost but there is also potential for savings in operational costs, potential for higher sales prices for net zero product and going forward it is likely that the operating costs for diesel vessels and the cost of diesel will only increase."
The other key aspect of the move to more sustainability is that there is a sharing of knowledge, technology and expertise across a number of marine areas and other industries such as the automotive sector.
The UK government recently announced a £60m tranche of funding, under the UK SHORE programme, to support the development of green marine technology and systems. This is part of an on-going £210m funding of this specialised area. This announcement was made during a visit to Artemis Technologies based in Belfast.
Using technologies adapted from the worlds of high-performance yacht racing, motorsports and aerospace, Artemis is developing vessels that effectively "fly" above the water's surface. The vessels produce zero emissions when foiling and offer energy savings of up to 90% resulting in significantly lower operating and maintenance costs. These include a "flying" workboat that might have applications in aquaculture.
Also benefitting from this UK government funding was award winning Devon-based Coastal Workboats Limited (CWL) which received under the UK SHORE programme. CWL was awarded more than £6m to support a £9m project that will deliver a UK-first demonstration of a fully-electric workboat and charging station.
Based in Devon and Scotland, CWL used the funding to expand and in developing its purpose-built Electric-Landing Utility Vessel (E-LUV). This is a flexible workboat vessel which can be used in the aquaculture market and other sectors. CWL is working with the Dutch shipbuilder and designer Damen group on this project.
As another example from a complementary marine sector the Port of Singapore, which has 1,600 harbour service craft, has a net-zero emission target that after 2030 all such craft will be electrically powered or use alternatives such hydrogen.
The maritime sector is facing significant challenges in the race to achieve net zero, but it is clear that the range of vessels serving aquaculture will look very different in the years to come.