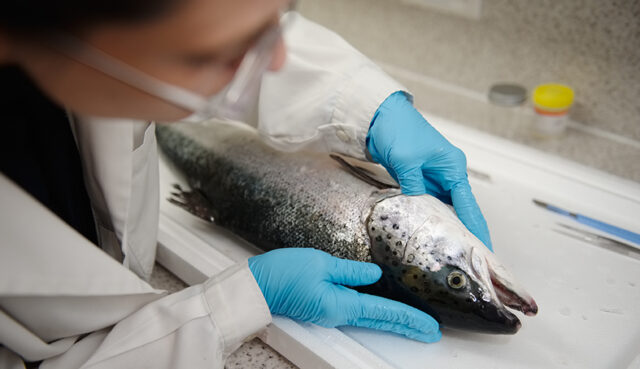 One of the biggest threats to farmed salmon is not what you might expect. Every year, hundreds of thousands, possibly millions, of fish die from a little-discussed cardiac disease, cardiomyopathy syndrome (CMS). In short: heart failure.
The disease made its entry into Norwegian salmon farms in the mid 1980s and later spread to the Faroe Islands, Scotland and Ireland. Now the authorities are increasing their efforts to try to find out why this killer syndrome is on the increase.
Salmon mortality in Norway is alarmingly high. It is estimated that around 50 million salmon die every year from various causes, many as a result of CMS. No part of the country's long coastline is immune, but the western part of Norway appears to be the hardest hit. It is also reckoned that cases often rise following lice treatment procedures,
suggesting stress may be a factor.
Scotland also has a problem. Mowi revealed in its third-quarter report, published in October, that incidents of CMS at its Scottish farms remain are still too high. Neighbouring companies have also suffered in the past.
Edgar Brun, Director of Fish Health and Welfare at the Norwegian Veterinary Institute, told the state broadcaster NRK recently that he believed there had been too much attention on salmon lice. He is calling for the focus to be widened.
He says there are so many other diseases that are contributing to the high mortality rate for farmed salmon and this has overshadowed the discussion around other types of infection. It is time, he argues, to take them more seriously.
Ida Beitnes Johansen, an associate professor at NMBU Veterinary College, has been selected to find some of the answers and mostly – and importantly – why some fish get sick while others remain healthy.
She says fish grow up in a highly controlled environment and it may be that stress is an important contributory cause.
Trygve Poppe, Professor Emeritus of Fish Health at the Norwegian School of Veterinary Science, believes the industry must take some of the blame for the country's high fish mortality.
He also told NRK the fact that so many salmon and trout die prematurely was not worthy of a cultured nation like Norway .
Firda Seafood CEO Ola Braanaas also believes there is an issue, adding that his company has introduced a number of measures that have resulted in reduced mortality. He says the company hopes to reduce losses to 5% within two years, with an eventual goal of zero deaths.
High mortality rates are costly for businesses – estimated at around £130m a year – because the disease often affects large and mature fish coming up to harvest.
The Veterinary Institute also believes the real cost could be almost twice as high as is estimated because CMS is not a notifiable disease.
In Vestland county, virus infection was registered last year in 35 fish farms – up from 28 in 2018 and 24 in 2017. More worryingly, a number of CMS cases have been reported where the disease occurs significantly earlier in the life cycle of a salmon, often five months after release into the sea, when fish are as small as 100-300 grams. According to scientists, this means that there is a risk of suffering CMS in a plant throughout almost the entire production cycle, resulting in major consequences for both operations and finances.
So far, outbreaks tend to be confined largely (but not exclusively) to farmed salmon. Some localities appear to be affected more than others, which leads scientists to believe there are reservoirs of infection they do not yet know about.
Clinical microscopic findings include inflammatory changes in the inner, spongy part of the anterior and cardiac chambers, while the compact ventricular wall is usually normal.
In severe cases, the changes can be so extensive that the atrial wall ruptures, which has given the disease its more popular and frightening name – heart crack.
So far there is no vaccine or effective treatment for CMS, but scientists are thought to be making progress. And that, for now, seems to be the best hope.