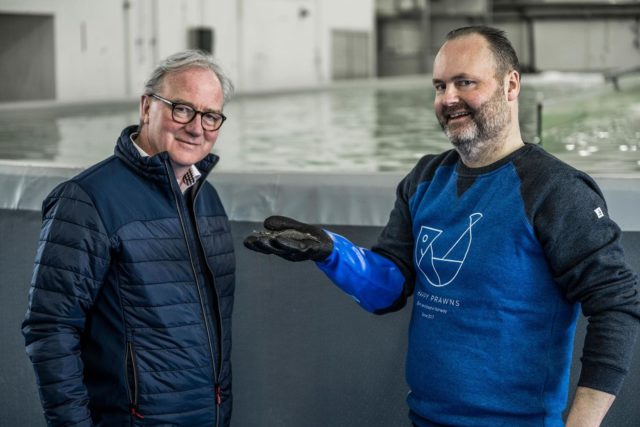 When it comes to climate, Florida and Norway are – it goes without saying – very different. Yet a fascinating experiment is taking place to find out if a king prawn, normally farmed in warm, sub-tropical waters, can be cultivated in a country where temperatures are well below freezing for half of the year.
The key players are Benchmark Genetics and a Norwegian business called the Happy Prawn Company. And their "laboratory" for this fascinating seafood adventure is located around a small harbour at Sirevåg, in southwest Norway.
They say their goal is to make Litopenaeus or L. Vannamei shrimp a delicacy product for high-end restaurants and discerning grocery shoppers.
The species is normally found in south and central America and along the Florida coast near the Gulf of Mexico. Global aquaculture production runs to more than four million tonnes.
On a freezing January day in Sirevåg, Magnar Hansen, the general manager and founder of Happy Prawns got up early to receive the first batch of L. Vannamei shrimp larvae that had been flown over from the sunshine state.
The 200,000 individuals were then placed in their new home, a tub containing 11,000 litres of water that had been heated to 28 degrees Centigrade.
The project began in Hansen's garage at his home in the town of Sola. After many years in the oil industry and as a supplier of coral reefs to saltwater aquariums, he decided to pursue a new career in aquaculture. He wanted to focus on a species in high demand, highly priced, and where there was a low entry barrier.
The project, based at a former shrimp packing plant in Sirevåg, has been gathering pace since last September when Norwegian salmon company Bremnes Seashore became a shareholder. This has helped Hansen acquire the capital for development and expertise in processing and marketing.
Hansen said he gets excited every time he has to prepare the facility for a delivery: "Just imagine that these small creatures are able to survive such a long flight. When they come to us they get a soft reception and are allowed to acclimatise for the first part of the day. They are then released into the tub where they immediately absorb the feed and begin to grow."
For Hansen, it is like "…having a small kindergarten in the house".
The fry require tender loving care to ensure their survival and increased growth. After three weeks in the receiving tanks, they are ready to be moved over to a much larger 200,000 litre tank that looks more like a swimming pool in size and shape.
The tank was designed and built based on knowledge and experience from a partner in Mexico, although many of the technical solutions had been designed by the Happy Prawns team. His own background as an expert in aquariums has been of great help in achieving cost-effective solutions.
Unlike salmon, which have a production cycle that can go on for years, the Happy Prawn Company says it can harvest adult shrimp in just three or four months after receiving the fry, which are only 10 to 15 millimetres long.
Paal Robert Wie, Happy Prawns' own house chef, said he has gained a great deal of knowledge about his new product, describing them as a dream to work with.
"They look good and have good colour and smell," he says. "As a chef I can say the consistency and taste are of the highest quality. They are also very useful in that they can be used raw as sashimi or as heat-treated."
Trond Williksen is CEO of Benchmark plc, a world leader in aquaculture breeding and genetics. He says one of the group's missions is to help the aquaculture industry operate more sustainably.
He explains: "Our shrimp programme has the status of SPR [specific pathogen resistant] which means they have a documented high resistance to specific disease causing viruses and bacteria. In addition, they are certified as SPF [specific pathogen free] which means they are documented as being completely free of a wide range of agents."
Disease has been one of the biggest challenges facing the global shrimp industry, with production almost wiped out in some years.
Williksen said: "We are making an important contribution by creating a sustainable foundation for this industry through a combination of biosafety and robustly resistant genetics. We have been able to transfer our genetics knowledge and technology on salmon to the shrimp programme. Our geneticists use genomic information and markets to improve disease resistance. So genomic selection and QTLs (quantitative trait locus) which salmon farmers are familiar with, are now also part of the toolbox for the computer industry."
Happy Prawns' production aims to be environment-friendly, with sustainable feed, robust genetics and a closed production system which guards from the spread of disease. There are also no discharges from production that can damage the environment.
"Our goal is to produce a tasty product based on environmentally safe solutions. Profit is not the most important thing," Hansen explained.
Although the shrimp are mainly fed with commercial feed, Hansen has also set up a "green diet" consisting of spinach.
"This diet is pure shrimp-candy," he explains. "In the long term, we also intend to experiment with a diet using seaweed and kelp as protein basis. To ensure health and well-being, probiotics are added to the water in the shrimp tank."
The existing premises have a production capacity of just below 60 tonnes of shrimp, but Happy Prawns has greater ambitions than that. The company has scaled up its ambitious plans and is starting to build a new production facility of 35,000 sq metres in a nearby industrial park, for completion in 2022.
It will be connected to a dairy facility, and surplus heat from this will be used for heating the water in the 52 tanks which are in the construction plans for the new facility."With the new plant we will be able to produce approximately 500 tonnes annually, but it will take time before we can build up a demand for such volumes," Hansen says.
With the retail market in sight, Happy Prawns looks set to reach an even wider audience in the future.