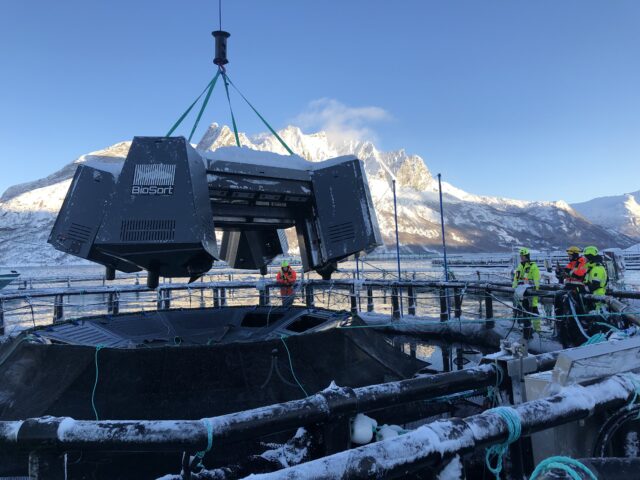 Using artificial intelligence and machine learning, an experimental fish farming system aims to identify individual fish in a pen, recording health and growth data for each one.
The company operating the iFarm is Cermaq, one of the world's leading salmon and trout farmers, with operations in Norway, Chile, and Canada.
"If successful, the iFarm will be a game changer for fish health and welfare in salmon farming," the company says.
The iFarm project, which is planned to run over five years, is a collaboration between Cermaq, the technology company BioSort, and the farming equipment supplier Scale AQ.
The very first iFarm fish was stocked in Cermaq's Martnesvika sea site in autumn 2020. In February this year, it announced the first iFarm fish were on the way to market. The first iFarm fish was harvested at Steigen processing plant and has been sent to customers in Europe and Asia.
The following month came another big announcement. In a world first, Cermaq had tested a sorting mechanism that sorts the fish in a net pen, to provide customised follow-up for the fish.
"Seeing the difference between fish is crucial for improving fish health and welfare in the net pens and will be a big step forward for increased survival in salmon farming. The goal of iFarm is to improve fish health and fish welfare through artificial intelligence and machine learning. An important step on the way is to be able to sort out fish that need adapted follow-up," Cermaq says.
BioSort has developed a "sorter",  a machine that will be able to sort and separate individual fish based on specific characteristics of the fish, using machine learning and artificial intelligence.
BioSort's Managing Director, Geir Stang Hauge, says: "To my knowledge, no one has previously sorted swimming fish in a net pen before, so this is a big step towards individual-based handling of fish."
BioSort has been working on the development of the sorter for two years. The iFarm sorter, which is controlled by a number of underwater electric motors, was first tested in BioSort's lab and pool at its offices in Oslo, then in the sea outside Oslo, before it was installed and tested in net pens at Cermaq's sea site in Vesterålen in Northern Norway.
"The purpose of this first test was to show that the sorter actually manages to sort swimming fish in a net pen, and it worked as we hoped, so it was a successful test," said Hauge.
Currently, the sorter is controlled manually, but the goal is for it to be autonomous so that it, together with the sensor system in iFarm, can make its own decisions based on defined criteria. However, that is a complicated and extensive development that will take time.
"Now that we have shown that it is possible to sort out swimming fish, the work will be intensified," Hauge added. "The development team takes the learnings from this test to the development of the next generation prototype of the sorter that will be able to function under even more conditions."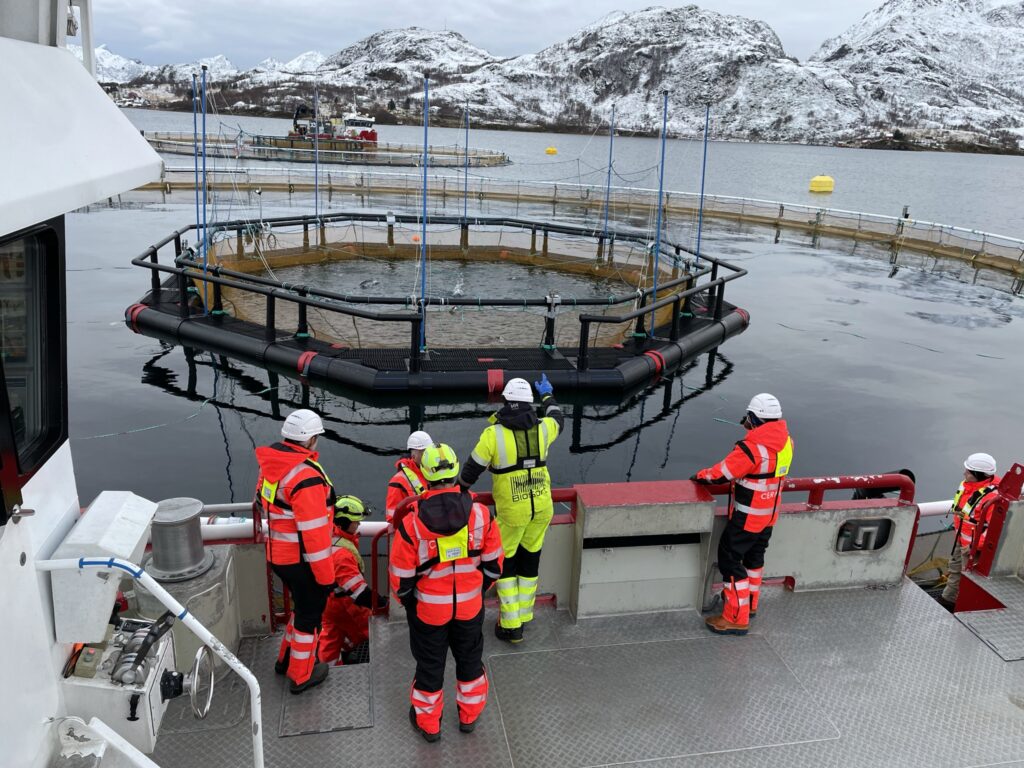 We wanted to know more, so we put some questions to the project manager at Cermaq's iFarm, Karl Fredrik Ottem.
"The iFarm concept is based on open pens, and the trials are also done in open pens in this innovation," Ottem says. "The fish are kept at 10 metres below the surface with a roof net, and to get to the surface to fill their swim bladder, the fish must swim through the iFarm camera sensor, where we aim to scan, recognize and record data on each specific fish.
"The advantages of managing the fish in this way is that it enables us to monitor their health and welfare status, and to adapt follow-up to individual fish, instead of the whole salmon pen.
"Another advantage is that the fish are kept below 10 metres depth, where they are less exposed to sea lice, resulting in less need for lice treatment."
Ottem explains that the key challenges of iFarm operations are related to the more complex net arrangements and integration with the sensor houses, which means more need for resources when starting and finalising a production.
"It is also key to get the fish to adapt to new equipment in the pen, and to get the fish to adapt its swimming pattern to the iFarm setup. We have not yet reached the stage in the project where we have started reporting data, but we aim to report data on growth, sea lice, lesions, disease, and tie this to a health journal for each fish.
"Identifying individual fish and recording their health will enable us to treat only fish that need it, and not the entire salmon pen, hence, reducing the stress load on the fish dramatically.
"We are now in phase 2, where we have a complete iFarm setup on an entire sea site for the first time. Here, we are testing different geometric designs of the sensor house to test which house the salmon prefer. During this phase we will also start testing a prototype of the sorter that is meant to sort aside the fish that need adapted follow-up."
For each fish that the iFarm analyses, it relies on the ability to process data from many cameras, seeing the animal from different sides, and on its capacity to run machine learning algorithms locally to make a decision to sort out fish or not.
As Ottem explains: "This is extremely computationally intensive and the electronics to make this possible, specialized for AI calculations, is driven forward by self-driving cars and other autonomous robotic systems, and was not available a few years ago.
"The project itself with the trials adds a lot to costs obviously, but if successful, the iFarm concept will contribute to saving costs in the long-term, because it will improve fish health and welfare, and reduce the need for stock treatments.
"If successful, iFarm is a system that can be implemented in all existing sea sites."