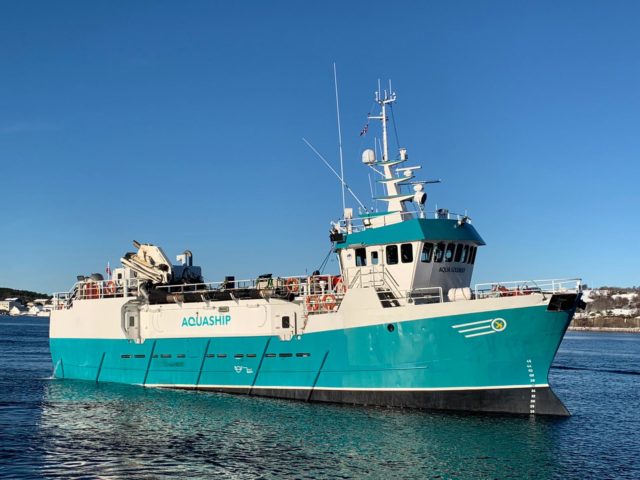 In January of this year the biggest wellboat yet constructed was launched at the Sefine Shipyard, in Turkey. The Gåsø Høvding is 83.2 metres long and 30.9 metres wide, with a total well volume of 7,500 cubic metres. It was commissioned for Norwegian shipping operator Frøy Group and designed by Møre Maritime, using technology from Cflow.
The Gåsø Høvding, which is equipped to transport large volumes of fish as well as carrying out delousing, is indicative of one trend in the vessels being built to service aquaculture: size. Farm units themselves are becoming ever more ambitious in terms of volume, and the vessels that serve them have had to follow suit.
But size is not the only factor that is changing in today's boats and barges. Another is function. AquaShip UK's Aqua Solundoy arrived in Shetland earlier this month following a major refit in Norway. The former wellboat has been converted to a dedicated harvest vessel capable of harvesting fish on site at a farm, rather than requiring the stock to be transported to a land-based facility.
Alan Bourhill, General Manager at AquaShip UK, says: "We have been championing the use of onsite harvesting for some time, and the concept has been progressively developed over time with regards to the capacity and design. There are significant, well-established benefits to onsite harvesting compared with live transport of fish.
Over the last 12-18 months the concept and use of onsite harvesting has really gained momentum in Norway and we're seeing growth in other markets too."
AquaShip UK operates seven onsite harvesting vessels in UK waters and through a group company, GripShip SPA now has two systems in use on vessels in Chile. AquaShip was created In July 2018, when Shetland based Johnson Marine Ltd, and Norwegian wellboat operator GripShip AS merged to form a new world class company with the express intention of creating an innovation-led global shipping company in the maritime aqua service sector.
On the Aqua Solundoy there is a fully enclosed processing unit on board the vessel, with stunning and bleeding technology. The harvest system was designed and fabricated by AquaShip UK, in Shetland where the company employs a team of 13 engineers and fabricators.
The extensive refit included fitting a shelter deck to house the harvest system, plus new generators and compressors, control systems, new live fish and vaccum pumps and hygiene systems such as ozone for disinfecting holds and pipework.
Bourhill says: "It's a step change in standards. The capacity and technology on the Aqua Solundoy will mean reduced time at the cage and, most importantly, delivers the highest standards of welfare, quality and safety."
AquaShip operates vessels for Cooke Aquaculture in Orkney and Shetland.
The Aqua Solundoy utilises  electrical backup stunning as well as the primary percussive stun and bleed machines, to guarantee welfare standards and the confidence of stakeholders.
The industry has also had to adjust to Covid-19 conditions. Every vessel needs an anchor – not to mention chains and shackles – and Saxton Marine Supplies is offering a video consultation service to help customers select and order these essentials, without any obligation
Another change taking place in the maritime world is being driven by new regulations on emissions from the International Maritime Organisation (IMO). As from January 2021, IMO Tier III regulations for commercial vessels with diesel engines came into force. These apply to vessels with a total power of more than 130 kW, whose keel laying date came after 1 January 2021.
The regulations limit emissions from diesel engines on vessels built from this year onwards. They will need cleaner diesel engines, and after-treatment systems to minimise nitrogen, sulphur oxide and particulate matter emissions.
Throughout the past year, many shipbuilders have ensured that the vessels they are building are capable of being retrofitted with the emissions-abatement technology needed to comply with the IMO rules.
This has certainly been the policy of Neptune Marine, based in the Netherlands, which builds a wide range of boats from dredgers to tugs and workboats, including vessels specifically designed for the aquaculture industry.
Neptune applied many years' experience developing EuroCarriers and delousing barges, to develop the EuroSupporter series, an all-round support vessel for the aquaculture industry.
With free deck space that is remarkable for vessels of this length, these workboats offer exceptional value for their size when it comes to their ability to house equipment such as delousing installations or operate as working platforms for mooring operations or maintenance of fish farms.
The EuroSupporter series delivers comfortable facilities onboard, whilst minimizing harm to the well-being of fish. Importantly, the EuroSupporter series can be made IMO Tier III compliant. This not only meets the IMO's criteria and reduces emissions, but also results in efficient operations.
Fuel efficiency was also a key consideration for Shetland-based Flugga Boats, which recently built six workboats for Grieg Seafood. The boats – which are made of aluminium with a high density polyethylene (HDPE) collar – are fitted with OXE diesel outboard engines, which combine economy with reliability and endurance. The OXE outboards not only save on fuel but extend endurance.
Shipbuilders and operators are increasingly looking at alternatives such as electric boats or electric/diesel hybrids. Torfinn Hansvik, Technical Manager with Moen Marin, notes that interest in this is gathering pace.
Hansvik says: "The demand is significantly rising. In 2019 we delivered two vessels, 2020 we also delivered two, while in 2021 we will probably deliver six vessels. That is approximately 20% of our annual production. The number of requests from the market are also significantly increasing, so for sure we will deliver more and more electric and hybrid boats in the coming years."
Is it all about customers 'going green'? Hansvik says: "A lot of them are choosing this to reduce their carbon footprint, and to achieve a better work environment for their staff with reduced noise, vibration and exhaust gases. It means a completely different everyday life for the people onboard. The reduction of fuel cost and maintenance cost is a positive contribution on top of that."
Scottish Sea Farms is also piloting an innovative hybrid power system aboard one of its feed barges, dramatically reducing fuel consumption, carbon emissions and operating costs.
Designed, built and monitored by Aqua Power Technologies, the hybrid concept has been shown to offset 32,408kg in carbon since the pilot began in September, comparable to the weight of a standard fuel tanker of 32,000 litres. The barge is based at SSF's Spelve site.
The results, after just four months, have been "fantastic", achieving cost savings as well as environmental benefits, according to Spelve Farm Manager Alan Tangny. He said: "We used to be filling our diesel tank at least once a week and now we're probably getting four times longer between fills."
The hybrid system switches between diesel and battery power, using the former only at times of highest demand and running on the batteries the rest of the time.
Hybrid technology is now established for road vehicles, but SSF believes this is the first time it has been deployed at a salmon farm.
All-electric boats are certainly on the horizon, but we're likely to see this first for smaller workboats which require a shorter range. Moen Marin's Hansvik says that, for now at least, his company recommends that even electric boats carry a small generator for emergencies and longer trips, such as when the boats have to go a yard for maintenance.
AquaShip's Alan Bourhill concludes: "At AquaShip we are driven by our ESG [environmental, social and governance] policies and ambitions. There is a trend to look at these options, as for electric vehicles generally.
"It is a process – these vessels are huge investments and have a long lifespan, so as older vessels are phased out, alternatives like hybrid power will become a growing feature."