Seafish to host Barcelona pavilion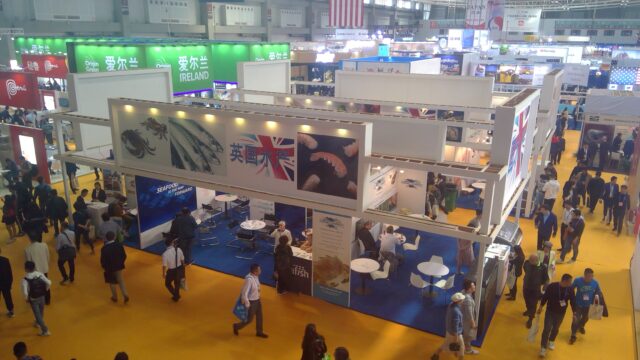 The UK's producers will be represented at the world's biggest trade show for the seafood sector, taking place in Barcelona later this month.
Seafish, the public body supporting the industry, and UK Government are working together on trade events and a marketing toolkit to support UK seafood exporters.
Seafood Expo Global (combined with Seafood Processing Global) takes place over 26-28 April, and has moved from its old home in Brussels to Barcelona. It is the largest trade event for global seafood buyers and sellers and Seafish is co-hosting the first ever UK seafood pavilion at the show.
The new UK pavilion offers companies the exhibition space to showcase products, do business, and build global connections.
Seafish says it has partnered with Defra's GREAT Food and Drink campaign and the Government's Seafood Trade team, as well as the Department for International Trade (DIT) to fund and subsidise some of the associated space, design, and build costs of the pavilion. Five UK seafood companies will share the UK seafood pavilion stand.
In addition to the booths for seafood companies, the pavilion will have a lounge and reception area for any businesses attending the Expo to visit and use for meetings.
Seafish and DIT will also host events including opportunities to meet with key international buyers and 'Meet the DIT Trade Specialists'. Regular seafood demonstrations will also take place at the on-stand demo kitchen.
UK Fisheries Minister, Victoria Prentis, said: "It is great to see some of our fantastic seafood companies at Seafood Expo Global. There are huge opportunities for our industry across the globe and we will do all that we can to support businesses in exploring new markets."
Hannah Thompson, Head of International Trade and UK Regions (West) at Seafish added: "The last couple of years have been tough for some businesses and we appreciate the support from Defra and DIT to make the UK seafood presence at this Expo bigger than ever.
Meanwhile, Scotland and Wales will also be separately represented at the Expo. Seafood Scotland is hosting a stand at which 16 companies will be represented, and a further 12 Scottish-based companies have booked their own stands. Seafood Scotland will also be running a number of complimentary activities to support Scottish exhibitors.
Natalie Bell, Head of Trade Marketing, Seafood Scotland, said: "We are anticipating a high level of interest in Scottish seafood, and we will be working hard to turn that interest into sales."
Welsh seafood will have also have a dedicated presence at the event. Visitors to the stand will be able to hear more about the work of the Welsh Seafood Cluster – a project led by Cywain, the Welsh food and drink sector development agency – which encourages collaborative working among companies and individuals in the seafood industry.
There will also be an opportunity to try Welsh seafood, as chef Harri Alun, from the renowned Carden Park Hotel, will cook samples to order throughout the event.
Find out more about Global Seafood Expo / Seafood Processing Global 2022 and Seafood Scotland's part in it, in the April 2022 issue of Fish Farmer, out now online.