Scottish seafood in the spotlight at SENA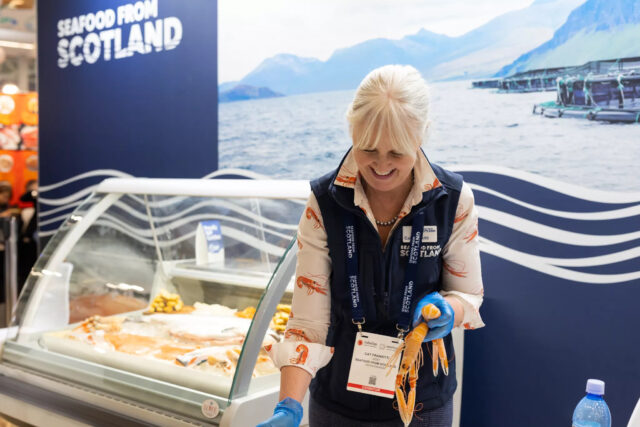 Seafood Scotland has said the trade show Seafood North America, held in Boston, Massachusetts earlier this week presented an "unmissable opportunity" to promote Scottish produce to North American consumers.
Seafood North America (SENA), which took place across 12-14 March,  is one of the world's leading trade shows for the sector and the biggest in its region, attracting thousands of buyers and suppliers from around the world.
Seafood Scotland hosted 10 Scottish companies on its Scottish pavilion with a further eight attending the event, all there to meet buyers face-to-face and capitalise on the commercial opportunities in the North American market.  Those attending represented businesses from across the seafood sector including aquaculture, pelagic, white fish and shellfish organisations, looking to maximise opportunities for the industry.
Adam Wing, Head of Trade Marketing for UK, Americas & New Markets said: "SENA gives us an unmissable opportunity to showcase Scottish seafood to buyers, media and key industry leaders at this renowned event.  We know the buyers, and we understand the market and the commercial opportunities in North America. Our team brought buyers together with Scottish companies to help open the door for new contracts and routes to market."
"With buyers attending from across import, export, hospitality and retail sectors, it allowed us to showcase world-class seafood from across Scotland. Our industry is passionate about delivering the highest quality product, the perfect versatile choice for the world's best chefs or the most discerning customers. An event like SENA helped us reinforce this message and ensure more buyers were aware of the quality produce available from Scotland. "
"We saw an uptick in seafood exports from the UK to the USA in 2021 according to official data, with over £200m heading stateside – most of which was Scottish salmon. More and more companies are coming to us for support to enter the market with recent trade wins coming for live shellfish and value-added seafood products. We've also seen positive demand for Scottish langoustines owing partly to the work of the Scottish Nephrops Working Group which is administered by Seafood Scotland and led by my colleague, Matthew Hurst."
Alongside the Seafood Scotland team, which included CEO Donna Fordyce and Nephrops Programme Manager Matthew Hurst,  the Scottish pavilion hosted Loch Duart Salmon; Lunar Fishing & Freezing; MacNeil Shellfish; Organic Sea Harvest; Scottish Langoustines; Scottish Seas; Scot West Shellfish; Skipness Smokehouse; Thistle Seafoods and Wester Ross Salmon.