Packed programme for Scottish Pavilion at Aqua Nor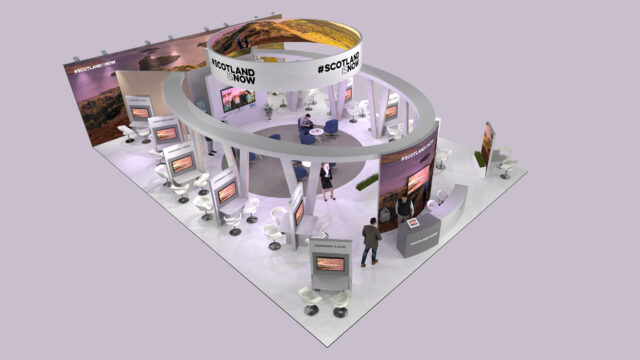 The Scottish Pavilion at the Aqua Nor 2023 trade show in Trondheim this August is offering a packed programme of events and presentations.
Team Scotland's presence at Aqua Nor is being co-ordinated by Highlands and Islands Enterprise and the Marine Directorate of the Scottish Government.
Tuesday 22 August, the first day of the show, begins with the official opening of the Scottish Pavilion with Mairi Gougeon, Cabinet Secretary for Rural Affairs, Land Reform and Islands. The first day also features presentations from Richard Beesley, Chief Commercial Officer, OTAQ Group on an early warning system for harmful algal blooms; from DSM on its sustainability service, Sustell; from Douglas Martin of MiAlgae on an alternative source of Omega-3 for aquafeed; and Genuswave on the company's Target Acoustic Startle Technology and Sea Lice Defence Technology.
Wednesday kicks off with Innovation Nations, a panel discussion exploring how different aquaculture-producing nations fund, drive, adopt and commercialise innovation. International panel members will share their experience, challenges and opportunities, and discuss how collaborative approaches towards innovation will drive forward sustainable growth in aquaculture.
It will be followed by a VIP brunch reception with Mairi Gougeon and guests.
Presentations in the afternoon will feature Professor Simon MacKenzie of the University of Stirling's Institute of Aquaculture; and Rhona Macdonald and Bill Roy of Moredun Scientific.
Thursday, the final day of the show, sees presentations from James R Dick of the University of Stirling; Fabio Cervellione of DSM on the company's Digital SalmoFan; and Laura Elphick, Ecosystem Manager, European Institute of Innovation & Technology (EIT) Food.
Fish Farmer magazine will also be hosting a daily draw with bottles of Scotch whisky to give away.
For details of the programme see www.sustainableaquaculture.com/scotland-at-aqua-nor-2023-programme/#gotopavilion-programme-details
Find the Scottish Pavilion at Stand D-334, Hall D in the Trondheim Spektrum exhibition centre. Aqua Nor takes place over 22-23 August.