Last chance to enter the UK Aquaculture Awards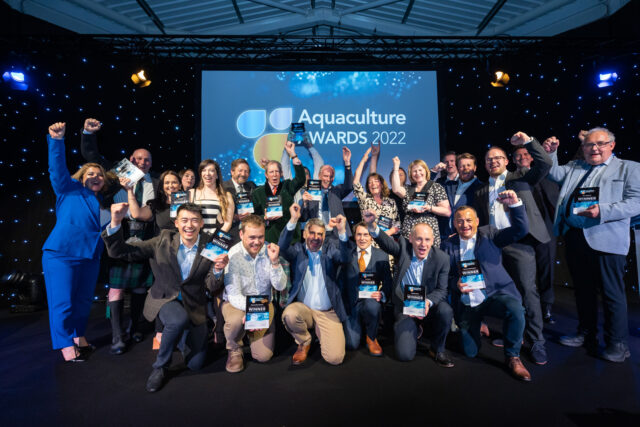 Tomorrow is the deadline for entries to the UK Aquaculture Awards 2023.
Submitting an entry can be done online via the awards website aquacultureawards.com, and takes only five minutes.
The awards, with the winners announced at a gala dinner in Inverness on Thursday 15 June, are presented annually and recognise aquaculture's rising stars, long-term heroes, most forward-thinking enterprises and game-changing innovations.
This year there are 14 categories including, for the first time, Best New Start-up.
As well as prizes for Finfish and Shellfish Farmer of the Year, Aquaculture Supplier of the Year, and Best Aquaculture Company, there will be awards for Sustainability, Community Initiative and Animal Welfare, among others.
The Judges' Special Recognition award, selected by the judging panel from the awards entries, will recognise an individual, project or business demonstrating impressive commitment and a responsible approach to aquaculture.
Cheri Arvonio, Awards Director, said: "The Aquaculture Awards have become a highlight in the sector's calendar, providing an opportunity for aquaculture people to champion their peers, as well as being a great excuse for everyone to get together.
"We want to hear about all those who have made an exceptional contribution in the last 12 months, whether it is farm staff on the ground going the extra mile, technical pioneers driving progress, or aquaculture leaders shaping future trends."
Finalists will be announced by the judging panel on Monday, 20 March. Tickets to the ceremony – at the Macdonald Drumossie Hotel, Inverness – will then go on sale.
Host for the night is comedian Jo Caulfield, described as "one of the finest female comics at work", and a regular on TV, at the Edinburgh Festival and a previous Aquaculture Awards compère.
The awards, which are free to enter and open to the entire industry, are staged by Diversified Communications, organisers of Aquaculture UK, the premier UK trade event for the industry, which returns to Aviemore in 2024.