Russians buy Norwegian de-licing technology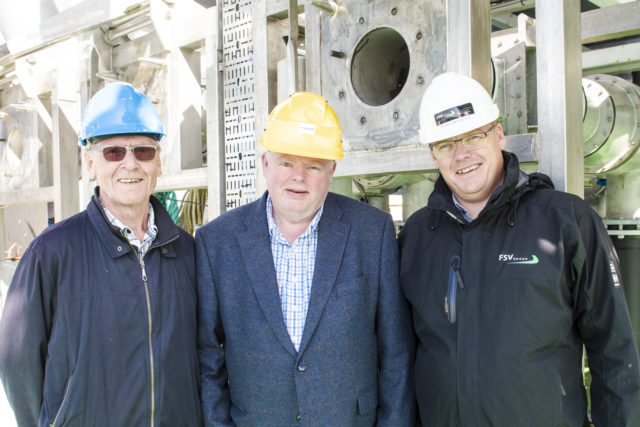 THE development of salmon farming in Russia continues with the purchase by the country's largest farmed salmon producer of a de-licing boat from Norway.
Russian Aquaculture, which farms 20,000 tonnes a year at seven sites in Murmansk, has bought the four-line de-licing barge Enabler One from FSV Group.
The latest FLS de-licing technology is supplied by Flatsetsund Engineering and the vessel, acquired in May, has undergone a significant upgrade at Båt-og Oppdrettservice in Averøy.
Following testing, the barge will be towed to Murmansk, where it will be operational by mid-September.
Pure Shipping, which has two vessels with FLS de-licers already operating, has been responsible for the trials and also the training of the Russian operators.
Russian Aquaculture accounts for more than 80 per cent of Russian salmon and trout farming production, and has further licences available to increase production.
The company's deputy director, Yuriy Kitashin, told a seminar at the Aqua Nor show in Trondheim yesterday that Russia's salmon farming sector is small and heavily dependent on Norway.
'We don't invent anything new in salmon aquaculutre in Murmansk. We mostly conduct Norwegian methods of aquaculture and most of the equipment that we use comes from Norway,' he said.
The company has two well boats bought from Norway, cargo ships to deliver Norwegian feed, and has Norwegian cages, mooring systems and feed barge.
Norway also educates Russian farm staff, said Kitashin – 'we send our guys regularly to Norwegian colleges to upgrade their knowledge'.
'We have to admit that our aquaculture sector is a follower. Russian business doesn't like to be a pioneer in any areas, let alone aquaculture.
'We tend to invest in businesses that are already proven, that work somewhere else, and aquaculture is no exception.'
He said ambitions in the country to produce 700,000 tonnes were a 'big challenge' and although Russia was big, sites suitable for fish production were sparse.
Russian Aquaculture also buys smolt from Norway and currently has two wholly owned subsidiary smolt plants in Norway, although it plans to build up its own smolt production in Russia.
The company's Arne Geirulv said they had been involved in dialogue with various de-licing system suppliers for a couple of years.
'We have assessed this thoroughly based on both customer requirements and fish welfare. We decided against thermal debugging early on, so Flatsetsund Engineering and their FLS de-licer was the obvious option.
'Then we looked at de-licing vessels for sale and ended up purchasing Enabler One, our first investment in mechanical de-licing.
'For us, investing in Norwegian technology is a natural choice. In Russia, the industry is still in an early phase of development. This also means that there are no service companies or other local suppliers to call.
'That is why we have built up our own infrastructure and a competent workforce, allowing us to deal with everything in-house.
'We have both well boats for slaughtering and our own slaughterhouse. Now we will also have good capacity for mechanical de-licing, where fish welfare is the top priority.'
For FSV Group's services company, selling equipment – not least abroad – is a new experience. FSV Group has been responsible for the overall project management.
'This has been an exciting project for us, featuring excellent cooperation with Russian Aquaculture, Flatsetsund Engineering and Båt- og Oppdrettservice,' said Endre Brekstad, technical manager at FSV Group.
'It's good that Norway can supply technology and not just raw materials.'
Kristian Lillerud of Flatsetsund Engineering said: 'We're very excited to be exporting our de-licing technology for the first time.
'It's also exciting that our first export will be to Russia, and we firmly believe that this is not the last time our de-licing technology will be sold abroad.'