Record numbers at new look Aqua Nor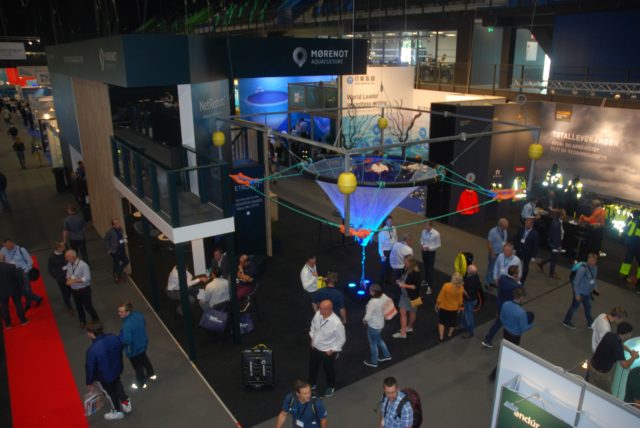 THERE were a record number of visitors at the Aqua Nor show, held last week in Trondheim, the organisers have confirmed.
More than 28,000 people from 74 countries attended the four-day exhibition, the world's leading aquaculture fair, which featured almost 700 exhibitors – another record – and a brand new main hall.
The breakdown of attendance on each day of the biennial event – celebrating its 40th anniversary – was 6,952 on Tuesday; Wednesday: 8,774; Thursday: 8,557; Friday: 3,811.
Project manager Kari Steinsbø said exhibitors reported that many of those coming to their stalls were international visitors.
'This fits well with our goal of being an international showcase for farming technology and the industry's most important meeting place,' she said.
'The pavilions with international exhibitors have been popular with visitors. The signals from the visiting exhibitors have also been very positive – they want to come back next time.'
The fair's new general manager, Kristian Digre, said there had also been a positive response to the seminar programme, which had 'developed tremendously'.
'Aqua Nor is a technology fair, so we want to actively contribute to all of technology, research and development being promoted,' he said.
The social events are also an important feature, and they too would be further developed for the next show.
'After the fair closes its doors in the afternoon, it is important that everyone has a place to meet,' he said. 'The Solsiden area in town is a great arena and we are already looking at opportunities to develop the social gathering place in the area for the future.'
After an extensive construction period, Trondheim Spektrum now boasts new facilities, completed shortly before the start of Aqua Nor, the first major event to be held here.
Steinsbø said: 'Now we have learned a lot about the implementation here, which we take with us to Nor-Fishing in 2020 and Aqua Nor in 2021.
'I also have to say thank you to all the exhibitors who have tackled new guidelines on transport and logistics in a fantastic way , and who have understood that small challenges can arise in a brand new building, Thank you for this year's fair!'
Planning is already underway for Nor-Fishing 2020 and Aqua Nor 2021.
A report on Aqua Nor 2019 will appear in the September issue of Fish Farmer, published next week.